Victor Nyirongo Bless - TAFA student -
Lilongwe Guide and Service Coordinator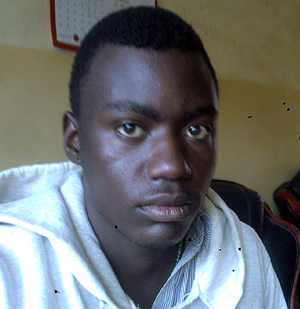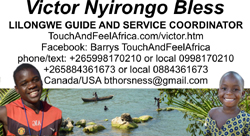 Victor has just begun his tour and service business.
Helping tourists go to various places in Lilongwe. These include the following places:
Lilongwe Wildlife Centre
The Tobacco Auction
Ntchisi Forest Reserve
Government House
Legislative Buildings
Old Town - crafts, cafes and restaurants
Lilongwe Nature Sanctuary
Netcafes
Bus Depots
Consulates for travel visas
or just around town to where you would like to go.
Travelling with Victor is cost effective, very safe and you will get to know Lilongwe through the eyes and experiences of a person that has grown up here. Take local transport with ease and get to know the city.
WANT TO GO SOMEPLACE? ASK VICTOR...
Please let Victor know how he can help you.
phone/text:
+265998170210 or local 0998170210
+265884361673 or local 0884361673
facebook: Victor Bless Nyirongo
email: victornyirongo3@gmail.com
As a long time resident of Lilongwe and a graduate of one of the academically best high schools in Malawi, Nkhata Bay Secondary School, Victor is working hard to earn money both to support himself and save some money so he might return to school as soon as possible.